How did your mouth get in a mess? Was it gum disease? Maybe tooth decay? Perhaps you lost or damaged teeth in an accident? Or maybe you are just getting on a bit and your teeth are wearing out.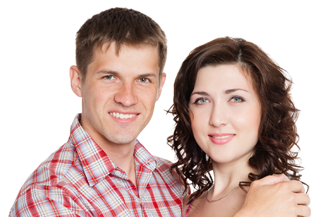 Whatever the reason, when your mouth is in a mess, it affects your life in many ways. It's not just that you can't bite or chew your food properly anymore. It's also because you are too embarrassed to smile and laugh and now people think you are cold and unfriendly because you don't smile. That's mealtimes and socialising that are depressing. Maybe your mouth is also affecting your work life, and your love life. It's not a good way to be, especially when there are so many great ways that we at Kings Dental Clinic in Hammersmith can restore your mouth to its former fabulousness.
We have an array of techniques and materials which we can use to fill in your gaps and repair or disguise damaged teeth.
Why not come in for a consultation and let us take a look at what's going on inside your mouth. Then we can make suggestions of what can be done, using a variety of methods to suit your budget.
Dental implants
These are the most effective way to replace lost teeth. They seem expensive, but one implant can support up to 3 teeth on a bridge and they can last for decades, so, over time, dental implants can even work out cheaper.
Dentures
Full dentures replace all the teeth on one arch. Partial dentures replace a few. Modern dentures are much more realistic and effective than before. We can even stabilise them with dental implants.
Veneers and composite bonding
These are 2 methods that we use to cover over damage on otherwise healthy teeth. Chips, cracks, intrinsic discolouration, worn edges, even gaps and slight twists can all be made to disappear using either veneers or composite bonding.
Crowns
A cover for teeth that need support and strength above the gumline, but are strong and healthy below it, where the root is still 100%.
Let us put together a treatment plan for you, and together we can make your mouth great again.