As part of their training dentists cover the muscles, bones and skin of the body especially in the head, neck and shoulders. They have to be able to identify when a jaw and teeth are not in alignment. This makes them perfectly placed to deliver facial aesthetics Hammersmith treatments with a little further specialised training. They also already have the perfect sterile environment in their surgeries to ensure that their treatments are safe. In addition to general dental, cosmetic and advanced dental procedures, aesthetic treatments also enhance a patient's self-esteem.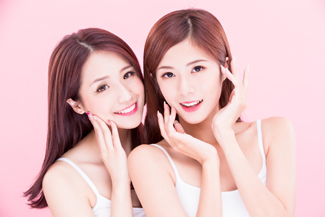 A progressive approach
We believe that listening to patients' concerns and expectations is a vital part of providing the correct treatment. Over the years we have extended the treatments we offer in response to your requests and we believe that facial aesthetics Hammersmith complement our existing skills and that it is beneficial to our patients to offer this service alongside dentistry. Our caring and understanding approach has earned us dental phobia certification. Often people display the same fear of facial aesthetics treatment and we use the same approach to put these patients at ease. We are used to operating in a sterile environment using tried and trusted medical techniques to ensure that our instruments are properly disinfected. In addition we utilise a decontamination room to ensure that your safety is always guaranteed.
Treatments available
Running alongside our normal dental treatments we offer rejuvenation treatments which are non-invasive and are delivered non-surgically. Our skin can show signs of ageing due to a variety of factors. Age spots and loss of elasticity can be caused by exposure to the sun, a poor diet and excessive smoking, just some of the more common causes. Our skilled practitioners use the very latest techniques, equipment and treatments to combat these signs of ageing. We use botulinum toxin to relax the facial muscles, resulting in a smoother skin appearance. The treatment takes between five to ten minutes and results can normally be seen within a few days. The treatment is non-surgical and lasts roughly three months after which it will need to be repeated. Dermal fillers which replace the hyaluronic acid lost over time will plump up wrinkles and lines producing a more youthful look. This same process is used for lip enhancement and to shape the contours of your hands and neck. Another procedure which has been used medically to aid the healing of wounds is thread lift. Inserting numerous layers of absorbable polydioxanone threads will stimulate collagen production and promote firmness and elasticity of the skin. To help combat the signs of ageing a revolutionary new treatment platelet-rich plasma therapy which uses your own blood mixed with a dermal filler aids regeneration, removes damaged cells and is very effective. Mesotherapy is a treatment using a multiple injection method delivering numerous vitamins and minerals which are important to maintaining a healthy and youthful skin. Whitebox treatment is designed to reduce skin pigmentation and is applied using the multi-injection techniques of the mesotherapy procedure.
Your dental health and appearance maintained under one roof
Dental care is our primary service and concern, but by providing facial aesthetics Hammersmith we are able to satisfy numerous patient requirements all under one roof. We at Kings Dental Clinic pride ourselves on listening to and understanding the needs of our patients. We are committed to providing safe treatments so that you can face today's world with a confident and radiant smile.