Referrals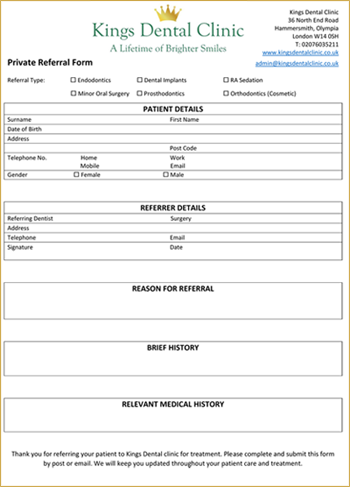 Why refer to Kings Dental Clinic
Kings dental clinic welcomes all referrals from local dentists to benefit from our professional and highly experienced team. We have the passion, experience and dedication to restore patient's full function and give them beautiful aesthetics. We listen and examine each case carefully while providing a plan that is tailored to the patient's needs and concerns.
We are experienced in dealing with phobic and nervous patients. Our dental team offer a gentle pain free approach with relaxation (RA) sedation when needed.
Referred patients will also benefit from achieving the perfect smile appearance and function. In order to achieve this, we offer treatments ranging from endodontics carried out by specialised microscope to cosmetic treatments including implants and orthodontics such as six month smiles and Inman aligners.
All treatments will be carried out using state-of-the-art technology by our highly qualified and experienced dentists. As a result, patients will have treatments with a high success rate at affordable prices with finance options.
Should you require further information on the range of treatments we offer, please do not hesitate to contact the Kings Dental Clinic Team on 02076035211 (Hammersmith) or 02077037599 (Southwark).