Wedding Day Smile Packages


Your wedding day will be a day you'll want to cherish and remember for the rest of your life. Of course, you'll want to look your best, and that doesn't just mean a great dress or suit, beautiful make-up and hair. You'll want your teeth to look perfect, too.
At Kings Dental Clinic we have seen an increasing number of patients looking for cosmetic dental treatment to boost their smile on their big day, whether that's with a simple tooth whitening treatment or more extensive cosmetic dental work. That's why we're pleased to offer a series of special Wedding Day Smile packages.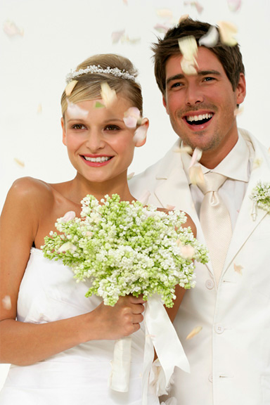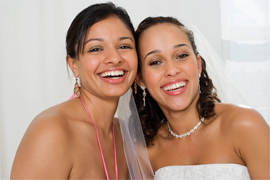 There are several packages to choose from, and of course it's not just the bride and groom who want to look good on the big day. That's why some of our packages include members of the wedding party such as bridesmaids, the best man or parents. If your friend or family member is getting married, our Wedding Day Smiles could make the perfect, unique gift.
Remember that all cosmetic treatments take time and require planning, so be sure to leave enough time to get the smile you want. We've provided a handy guide so that you know when to start treatment.
Packages
Silver Package: 8 weeks before
30% off initial consultation
Deluxe diamond sparkle hygiene polish
Teeth whitening treatment, home kit included
Bride (£475)
Bride & Groom (£799)
Bride, Groom and 2 members of the bridal family (1,500)

Gold Package: 3-6 months before
Free initial consultation and no-obligation treatment plan and estimate
Deluxe diamond sparkle hygiene polish
Teeth whitening treatment, home kit included
Initial Facial rejuvenation
Bride (£699)
Bride & Groom (£1,300)
Bride, Groom & 2 members of the bridal family (£2,500)

Platinum Package: 9-12 months before
Free initial consultation and no-obligation treatment plan and estimate
Deluxe diamond sparkle hygiene polish
Teeth whitening treatment, home kit included
Initial Facial rejuvenation
Smile Makeover treatments may include: six month smiles, veneers, non-metal crowns and bridges, tooth coloured (white) filling and more
From £3,750

Diamond Package: 9-12 months before
Free initial consultation and no-obligation treatment plan and estimate
Deluxe diamond sparkle hygiene polish
Teeth whitening treatment, home kit included
Initial Facial rejuvenation
Smile Makeover treatments may include: six month smiles, veneers, non-metal crowns and bridges, tooth coloured (white) filling and more.
Dental implant treatments
Endodontics treatment using specialist microscope with our highly experienced endodontist
From £6,300