Gone are those days when orthodontics where synonymous with unsightly metal brackets and wires. Cosmetic orthodontics is one of the fastest-growing areas of modern dentistry, since teeth straightening doesn't always have to involve fixed braces at all.
At Kings Dental Clinic in Hammersmith, we believe that orthodontic treatment has to be compatible with your lifestyle. That's why we offer innovative, discreet, invisible and short-term treatment options for patients who want to improve their smile with as little hassle as possible.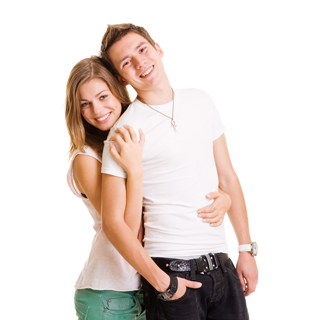 Six Month Smiles
Six Month Smiles are discreet, cost-effective braces, which can be used to fix mild to moderate cosmetic orthodontic problems in as little as six months. This is because they do not alter your bite but concentrate on your front teeth.
Just like conventional braces, Six Month Smiles braces use wires and brackets to gradually move your teeth into their right position. However, brackets and wires are made of tooth-coloured materials, thus making them barely noticeable.
Our dentists are certified providers of Six Month Smiles braces in the UK and have successfully treated many patients for the past two years – almost since the treatment was introduced in the country.
Invisible braces
Invisible braces are virtually invisible and are ideal for adults who do not feel comfortable wearing metal braces. Invisible braces consist of a series of removable, custom-made aligners, which help move your teeth into their right position in less time than traditional orthodontics. Benefits of this type of treatment include shorter treatment time as well as straighter teeth and alignment of your upper and lower jaws. Because they are transparent, invisible braces make you less self-conscious when socialising or speaking in public. Not to mention that you can also take them out to eat or brush your teeth, so you do not have to compromise your lifestyle.
Inman aligner
The Inman Aligner is an innovative teeth straightening treatment, which produces incredible results in a short period of time. The Inman Aligner is very similar to a retainer, however, it consists of two titanium springs and opposing aligner bows, which gently move your teeth into position over a very short period of time. Each Inman Aligner is customised based on individual dental impressions. Once properly fitted, you will have to wear the aligners up to 20 hours per day for effective treatment.