If you are embarrassed about stained or discoloured teeth, now could be the perfect time to give them a brightness boost. Teeth whitening treatment, when carried out by a dentist, is a fast, safe and effective way to add some sparkle to your smile.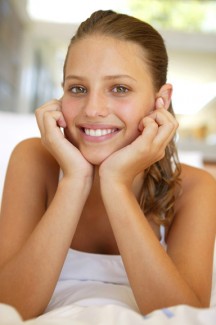 Depending on the option you choose, teeth whitening can take from two weeks to just one hour. It's the perfect way to improve your smile before a special occasion – a job interview, business presentation or, as it's Valentine's month, a special date.
At King's Dental's Southwark and Hammersmith practices, our skilled cosmetic dentists offer two options for teeth whitening treatment: home whitening and in-practice power whitening. The best option for you will depend on your individual needs, preferences and budget – your cosmetic dentist will talk you through both options at your teeth whitening consultation.
Option 1: Power whitening
Power whitening takes place here at the dental practice. Your dentist will protect your lips and gums with a barrier and will place special whitening gel on your teeth. A lamp is used to activate the bleaching process – all you need to do is sit back and relax for an hour. When treatment is complete your teeth will look several shades brighter.
Option 2: Home whitening
Your dentist will create special light-weight plastic trays that will fit your teeth precisely. You need to put a small amount of whitening gel in the trays and wear them overnight at home for approximately two weeks. The result will be a brighter, whiter smile.
Remember that teeth whitening should only be carried out on the direction of a qualified dentist. Products available online or on the high street are unregulated and unreliable – unlike products offered by dentists, which are tried, tested and safe.